Formaldehyde Quantification Assay
FORMALDEHYDE (methanal) is widely employed in industry. Formaldehyde is also used as a disinfectant and is a commonly utilized tissue fixative and embalming agent. Formaldehyde is naturally present in all tissues and body fluids. Recently it has been shown that some cancer types exhibit elevated formaldehyde levels. Amiscience's Formaldehyde Assay Kit provides a convenient fluorimetric means to measure formaldehyde. In the assay, formaldehyde is derivatized with acetoacetanilide in the presence of ammonia. The resulting fluorescent product is then quantified using FluoroQuik handheld fluorometer (ex/em =360nm/460nm).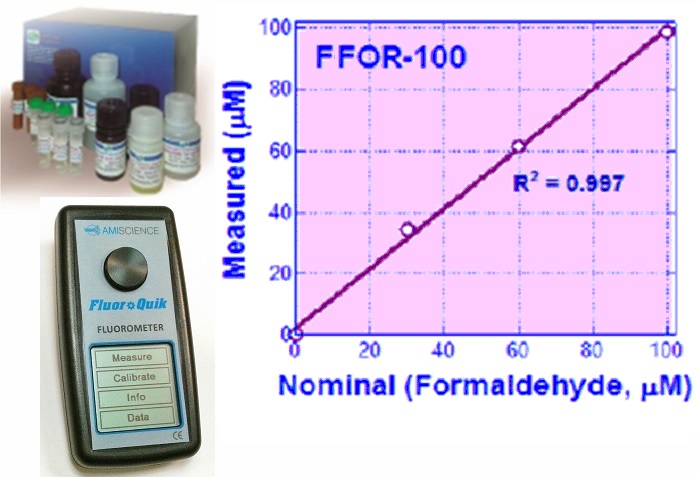 Part Number: FFOR-100
Specifications
Sample: Formaldehyde extracted from biological, food, and environmental samples.
Assay Performance:

Sufficient for about 100 tests.
Linear Detection Range: 0 to 100 uM (0 - 3,000 ppb).
Detection Limit: 0.9 uM (27 ppb).
Typical Precision (CV%): <4% at 100 uM; <4% at 30 uM.

Shipping and storage: The kit is shipped at room temperature. Store all reagents at 4 deg-C. Shelf life: 18 months.