Handheld Fluorometer
Portable and light-weight, Amiscience's handheld fluorometer provides exceptional sensitivity, rapid-reading, and reliability at a much lower cost compared to the industrial standards. Each unit can be configured up to two different wavelegnth channels for multiple purposes. This is an important device for applications in the fields of life-science, chemistry, medicine, and environment. Either alone or with specific reagents, this convenient device can be used for detecting the quality of drinking water, contamination of foods, and presence of bacteria, just to name a few, right on the spot. Standard calibration is easily done via the touch-screen. Built-in USB interface allows user to retrieve up to 80 data points for each of the three assays stored in the memory. We are glad to help you configure your specific wavelength requirement.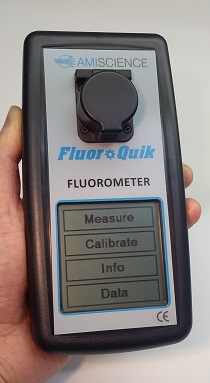 Available models: (excitation/emission wavelength)
FQ-360/460-A, -B, -C
FQ-480/530-A, -B, -C
FQ-530/590-A, -B, -C
FQ-600/650-A, -B, -C
FQ-440/670-A, -B, -C
Other configuration possible.
Specifications
Product Type: Single Tube Fluorometer
Read Type: Discrete
Sample Volume: 100 uL using mini glass tube, 200 uL using PCR tube (-A model), 500 uL using micro-centrifuge tube (-B model), or 1 mL using 1-cm cuvette (-C model).
Excitation Wavelength Selections (nm):
Standard: 360, 440, 480, 530, 600
Optional: Please contact us
Detection Wavelength Selections (nm):
Standard: 460, 530, 590, 650, 670
Optional: Please contact us
Dynamic Range: > 6 Orders of Magnitude, Assay Dependent
Read Out: RFU or Direct Concentration
Calibration: Two-Point Calibration
User Interface: Touch Screen LCD Display
Power: 4 AA Batteries or 5V DC Power Adaptor
Computer Interface: USB Interface to Retrieve up to 80x3 Data Points
Dimensions (L x W x H): 185mm x 90mm x 35mm
Applications
Drinking Water Monitoring
Food Safety
Natural Water Body Study
Heavy Metal Detection
Bacteria Detection
Blood Analysis
DNA Labeling
Sanitation Monitoring
Medical/Decease Diagnosis
Environmental Study
Pesticide Control