Handheld Colorimeter
Compact and light-weight, Amiscience's single- and dual-channel handheld colorimeter detect the optical absorption (optical density) of fixed wavelength selected from our available wavelength plans. This portable instrument provides exceptional sensitivity, repeatability, and reliability for a much lower cost compared to the market standards. Available in two different formats (mini tubes and 1-cm cuvette), this is an important device for applications in the fields of biology, chemistry, medicine, and environment. Working with proper reagents, this meter can be used to measure the concentration of specific targets, right on the spot with a simple calibration process using the touch screen. Built-in USB interface allows users to retrieve up to 80 data points for each of assay/channel. The unique dual-channel design has identical optical path for both channels, thus enabling the precise measurement of dual-wavelength absorption applications.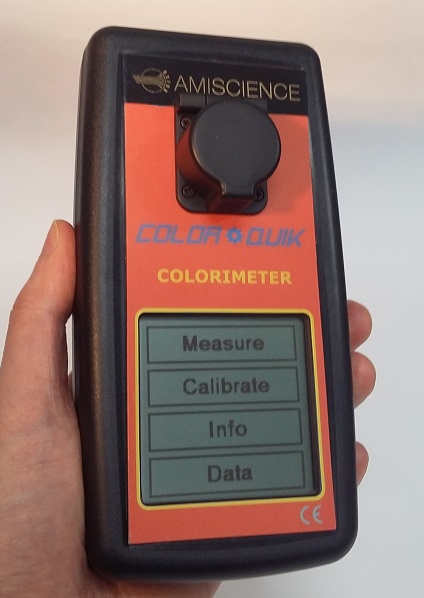 Available models: (xxx,yyy=wavelength)
CQ-xxx(-yyy)-A: mini-glass tube and PCR tube
CQ-xxx(-yyy)-C: 1-cm cuvette
Other configuration possible.
Specifications
Product Type: Single Tube Colorimeter with up to two channels
Read Type: Discrete
Sample Volume: 0.1mL using mini-glass tube, and 0.2mL using PCT tube (-A model), or 1-mL (-C model) using 1-cm cuvette
Linear Signal Variation: <1.0% (-A model) or <0.5% (-C model) typical
Available Wavelength Selections (nm): Standard: 365, 380, 410, 420, 436, 460, 480, 520, 540, 600, 620, 650, 680
Dynamic Range: >4 Orders of Magnitude
Read Out: Photo-Current Count, OD, or Nominal Value
Calibration: Two-Point Calibration (Blank and Standard)
User Interface: Touch Screen LCD Display
Power: 4 AA Batteries or 5V DC Power Adaptor
Computer Interface: USB Interface to Retrieve up to 80 Data Points per assay/channel
Dimensions (L x W x H): 185mm x 90mm x 35mm
Applications
Drinking Water Monitoring
Food Safety
Natural Water Body Study
Heavy Metal Detection
Bacteria Detection
Blood Analysis
Education
Sanitation Monitoring
Medical/Decease Diagnosis
Environmental Study
Pesticide Control