Handheld Fluorometer With Temperature Control
FluoroQuik Thermal (TM) is a unique handheld fluorometer with integrated internal heater that maintains a constant temperature in the test chamber. This compact instrument offers a consistent environment for your fluorescent samples that are temperature sensitive. This feature is especially important when doing kinetic measurement over a period of time. The temperature can be conveniently set between 10 to 60 degree C using the user-friendly touch screen.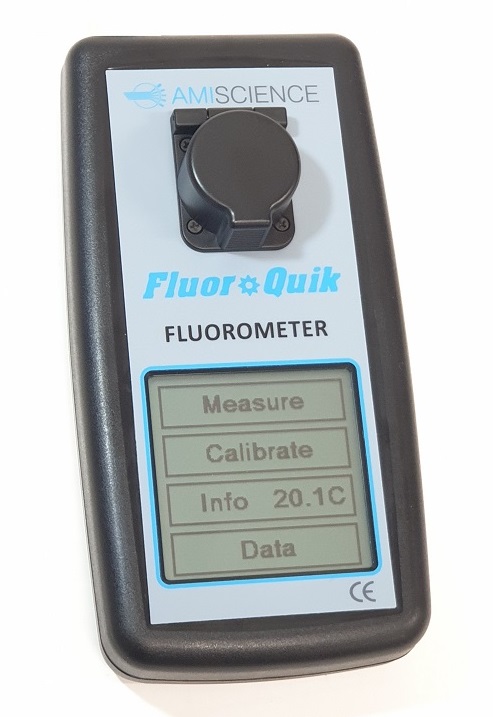 Available model: (excitation/emission wavelength)
FQT-360/460-A, -B, -C
FQT-480/530-A, -B, -C
FQT-530/590-A, -B, -C
FQT-600/650-A, -B, -C
FQT-440/670-A, -B, -C
Other options possible.
Specifications
Product Type: Single Tube Fluorometer
Read Type: Discrete
Sample Volume: 100 uL using mini glass tube, 200 uL using PCR tube (-A model), or 500 uL using micro-centrifuge tube (-B model), or 1 mL using 1-cm cuvette (-C model).
Excitation Wavelength Selections (nm):
Standard: 360, 440, 480, 530, 600
Optional: Please contact us
Detection Wavelength Selections (nm):
Standard: 460, 530, 590, 650, 670
Optional: Please contact us
Dynamic Range: > 6 Orders of Magnitude, Assay Dependent
Temperature Range: 10-60 deg-C (and above Ambient)
Temperature Accuracy: +/-1 deg-C
Temperature Stability: +/-0.5 deg-C
Read Out: RFU or Direct Concentration
Calibration: Two-Point Calibration
User Interface: Touch Screen LCD Display
Power: 6V DC Power Adaptor
Computer Interface: USB Interface to Retrieve up to 80x2 Data Points
Dimensions (L x W x H): 185mm x 90mm x 35mm
Applications
Drinking Water Monitoring
Food Safety
Natural Water Body Study
Heavy Metal Detection
Bacteria Detection
Blood Analysis
DNA Labeling
Sanitation Monitoring
Medical/Decease Diagnosis
Environmental Study
Pesticide Control